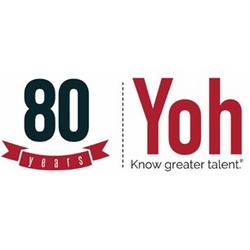 Yoh, A Day & Zimmerman Company
Overland Park, Kansas, United States
About Yoh, A Day & Zimmerman Company
At Yoh, we focus on helping you precisely navigate and fulfill your talent demands. Are you securing the right talent pipelines? Seeking the truth about your talent needs and processes? Start leveraging our deep industry expertise today.
Yoh covers the diverse talent and workforce management needs in the Aviation, Engineering, Health Care, IT, Life Sciences, Media & Entertainment and Telecom industries. You can be confident that we have the right talent and managed solution for you. You need it. Yoh has it!
And you're probably wondering… "What do these guys know?" Quite a bit actually. Check out www.yoh.com to get access to:
#1. The best thought leadership on Yoh's blog and website. Here you'll get access to exclusive content that's upfront, up-to-date, and that has solutions you need now.
#2 Direct access to Yoh's many services, such as:
Recruitment Process Outsourcing (RPO), Managed Services, Staffing Services, Agile, Payroll Services, and we're always staying ahead of the curve on our client's wants and needs.
Yoh operates from 75+ locations throughout North America and the United Kingdom. We are headquartered in Philadelphia, PA and are a Day & Zimmermann Company. We have a long lasting partnership with the American Staffing Association.
Company Size
1,001-5,000 employees
Website
Yoh, A Day & Zimmerman Company Offices
Location:

Overland Park, Kansas, United States
Recruiters