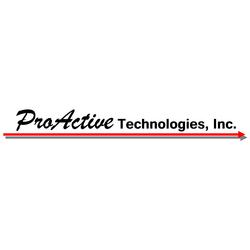 ProActive Technologies Inc.
United States, Florida, Oviedo
About ProActive Technologies Inc.
ProActive Technologies provides state-of-the-art hardware and software design engineering and logistical and management support services to the simulation and training marketplaces for Government and private industry.
Our driving principles of QUALITY, ON-TIME DELIVERY, and SERVICE are achieved as a direct result of our employees' dedication to fulfilling our customers' goals. INTEGRITY and CREDIBILITY are our foundations.
We stand behind our word and our work. This philosophy is the basis for ProActive Technologies' exceptional reputation with our customers, suppliers, and competitors.ProActive Technologies, Inc., an employee-owned company, was founded in 1996 by Robert "Bob" Acevedo, West Point class of 1975. Bob's time in the US Army was centered around TANKS, since he was commissioned as an Armor Officer. While serving on active duty, Bob had the opportunity to help define the performance requirements of Tank training devices. Upon leaving the US Army, Bob continued his interest in Military Simulation & Training (MS&T) by working for a number of large and small simulation companies. Over the course of his career, he has held progressively responsible engineering and management positions that included mechanical design engineer, software engineer, systems engineer, project engineer, and Director of Engineering. In 1996, Bob decided to start his own MS&T company that would encompass the Warfighter's perspective in the acquisition and development process. His vision of a Warfighter focused integrated engineering and logistics services company to compete in the training and simulation marketplace has guided the company's business strategy for the past 20+ years.
As of 2019, all ProActive Technologies employees are owners through our Employee Stock Ownership Plan (ESOP).
Company Size
201-500 employees
Website
Industry
Information Technology & Software Development
ProActive Technologies Inc. Offices
ProActive Technologies Inc.

Address:

5712 Dot Com Court

Postal Code:

32-765

Phone:

(321) 319-0440

Location:

United States, Florida, Oviedo
Recruiters

Kari Nolan
Human Resources Generalist II-Talent Acquisition Partner
Oviedo, Florida, United States
View Details