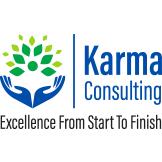 Karma Consulting Inc
United States, Washington, Federal Way
About Karma Consulting Inc
Karma Consulting, Inc. started in 2009 in the beautiful Northwest city of Federal Way in WA State. We are into IT Solutions and Services with Small to large scale solutions, development and project/programmanagement. We offer our client a slew of suite of services. This includes, but not limited to, full life-cycle implementation, upgrades & installations, project management, applications consulting, customization & custom development, database administration, training & process documentation, and post-production support.
Being one of the fastest growing company in IT space and providing a broad range of Enterprise and Non-Enterprise application solutions and services, we are entering into a broader spectrum of IT domain. We envision ourselves as a product company catering to the needs of our clients, easing their pain points, servicing their needs. Needless to say, if we are selling products, the post implementation support structure is also in place to support our installed base and presently targeting North America, with intent to spread world-wide. Towards this endeavor, Supplier Interaction Portal is one such tool, which helps our client digitize their vendor data to seamlessly collect, vet and integrate with their enterprise / back-end system. A brief of which is provided below.
Our bread and butter is to provide the appropriate technology resources and support to meet the IT needs of our customers. Such resources include delivering well-qualified professionals to fill internal IT consulting needs, creating technology-driven service oriented software solutions, and bringing internal IT resources up-to-date with recent technology changes through our professional training programs.
Our core focus lies in delivering innovative and highly responsive solutions that help clients align effective IT strategy with their business goals. As a one-stop IT provider, our core business divisions that go hand in hand are Application Product Development and IT Service management. Our customers are ensured that the product or service provided are developed and supported for in order to ensure palpable benefits. Utmost transparency in our development of products and service ensures that clients have a clear understanding of the reasons behind product deliverables for their business. Our proficiency in multiple technologies in IT ensures that clients are never short on resources when it comes to IT-related improvements in their business models.
•	The Industries for which these solutions are provided are as below:
•	Manufacturing Industry
•	Pharmaceutical Industry
•	Public Sector – City and State government
•	Retail Industry
•	E-Governance
•	Enterprise Resource Planning (ERP)
We have also ventured out into Product development. We envision being more of a product based company than a system integrator. As a result we have developed one of many products called Supplier Interaction portal.

Company Size
11-50 employees
Website
Industry
Information Technology & Software Development
Karma Consulting Inc Offices
Karma Consulting

Address:

33427 Pacific Highway S.

Postal Code:

98-003

Location:

United States, Washington, Federal Way
Recruiters