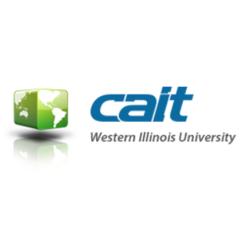 Center for the Application of Information Technologies, Western Illinois University
United States, Illinois, Macomb
About Center for the Application of Information Technologies, Western Illinois University
A department of Western Illinois University, http://www.wiu.edu, Center for the application of Information Technologies, http://www.cait.org is a small organization of 20+ full-time staff which include those who are highly technical and those with a strong instructional design focus. We maintain our own technology housed in two separate data centers that use current cloud-based technologies.
.
CAIT's office is located in an academic building on the WIU Macomb campus adjacent to the Malpass Library, and staff have the opportunity to engage within the WIU community of more than 1,000 employees at a University offering a large array of bachelor and graduate degrees, and a doctorate degree. We are able to have a smaller staffing focus on what we do best because a majority of business administration and facility management services are served through the greater University.
.
The Center for the Application of Information Technologies (CAIT) is an Illinois Board of Higher Education designated center housed within Western Illinois University. Our mission is to provide innovative and practical technology solutions, technical consulting, and sound e-learning to state agencies, educational institutions, businesses, public agencies, and nonprofit organizations.
.
As educators, designers, developers, and customer support providers, we use the power of technology to provide cost effective solutions that serve the instructional and training needs of our clients' users.
.
We are here to positively impact the lives of our learners by providing a meaningful learning experience through leading edge technology.

Company Size
11-50 employees
Website
Industry
Information Technology & Software Development
Center for the Application of Information Technologies, Western Illinois University Offices
Western Illinois University

Address:

1 University Circle

Postal Code:

61-455

Phone:

(309) 298-1804

Location:

United States, Illinois, Macomb
Recruiters